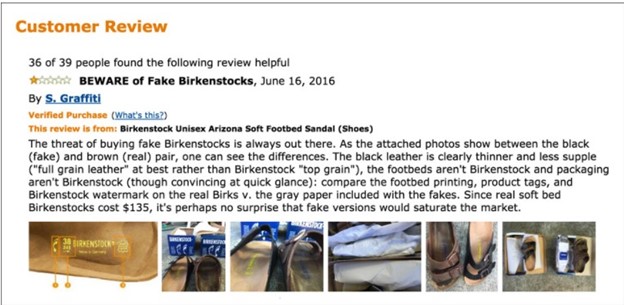 The popular German shoe company, Birkenstock, quit Amazon on Jan 1, 2017. The iconic sandal label, which has been in operation for over 240 years now, cited fake versions of its products on Amazon as the reason for bailing out. The company also said that it would not authorize sales from any third-party sellers on this gigantic platform.
According to Birkenstock, then CEO David Kahn, the decision was made after years of deliberations and extensive discussions. Birkenstock was one of the first major brands that felt that the partnership with Amazon US was not worth it.
Disheartening Business Practices
"The Amazon marketplace, which operates as an open market, creates an environment where we experience unacceptable business practices which we believe jeopardize our brand," Kahn said in a memo that CNBC managed to obtain. According to Khan, several issues were damaging their brand, some of which included:
A large number or unauthorised third-party sellers listing counterfeit Birkenstock shoes
An increase in unidentifiable and unauthorized sellers blatantly disregarding the company's pricing and retailing policies
Fraudulent sellers given free hand
It was one of the hardest decisions that the company has ever taken. Kahn affirmed that the course of action would allow fake suppliers, counterfeits, and unauthorized sellers to have a field day in the Amazon marketplace.
​He further advised buyers to be aware of the fakes that would still be selling on the platform after Jan 1, 2017. "It may be counterfeit. It may be stolen. It may be manufactured under questionable labour and environmental conditions," he said and urged customers to purchase their Birkenstock shoes from only authorised retailers.
Whilst I have not seen unassailable proof, some insiders claim counterfeit products seem to have flooded the Amazon marketplace since legions of Chinese (non-US based) merchants began flooding the marketplace. Birkenstock's flagship Arizona sandal could be seen selling up to USD79.99 below the retail price.
According to Kahn, a brand looking to engage with Amazon should be creating a clean environment and should consider listing the whole catalogue to the eCommerce platform. It's part of Amazon's effort to be the one-stop place for everything and anything. Instead of engaging in a never-ending fight, several brands have decided to engage with Amazon under this arrangement.
Amazon- "We are not as painted"
However, in its defence, the eCommerce giant stated that it prohibits sellers from offering fraudulent products. Amazon spokesperson said that they get rid of items that violate their policies as soon as possible and stand with genuine sellers with their A-to-Z Guarantee.
Amazon provides many tools to help brands police fraudulent activity, but it relies on brands to use the tools.
The spokesman further encouraged the right owners to notify them whenever they have a product authenticity concern. "We will investigate it thoroughly and take any appropriate actions."
Leonid- "Birkenstock's claim is baseless"
Leonid Bershidsky, a Bloomberg opinion columnist, disagrees with Birkenstock's claim that Amazon cannot police fakes on its marketplace. According to him, the excuse didn't hold water, as fake Birkenstocks were hard to find on the platform.
Leonid said that a search on the Amazon US site still turns up many of the brand's corked-soled sandals and newer product lines from authorized resellers. He further notes that these listings' prices are higher than in Birkenstock's own site. According to him, Alibaba is the home for some of the fakes- an item going for USD 5 on Alibaba sells at about USD 40 for Amazon US customers.
Lessons for Australian brands.
The take home lesson for Australian brands, in my opinion, is that we need to engage with Amazon very directly. Companies need to actively defend their space on Amazon. Your brand will be on the marketplace whether you put it there or not, so you might as well engage and use the tools Amazon provides.
Sources
Bloomberg: Birkenstock can defy amazon but not beat it.
CNBC: Birkenstock quits Amazon in the US after a counterfeit surge
GeekWire: Birkenstock walks away from Amazon
---