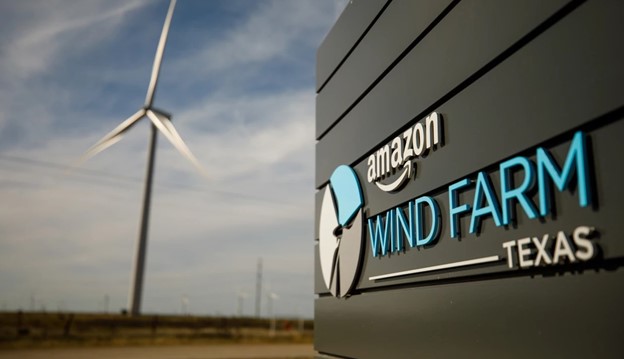 You'd have to have been living on Mars not to notice in the last few years the cultural shift towards Environmental, Social and Governance (ESG) awareness. As more people, activists, and organizations continue to be environmentally responsible, what is Amazon doing to maintain an image of a company that values mother earth.?
Well possibly more than they get credit for. But possibly not enough.
First, the positives:
In 2019, Amazon pledged to use 100% renewable energy by 2030 fully and strike net-zero carbon emission by 2040. Far ahead of many companies of comparable scale. However recently, it revised and fast-tracked the renewable energy deadline to 2025.
June 2020 saw the giant launching a $2 Billion Climate Pledge Fund to invest in sustainable technologies and businesses and to help meet the above climate pledge. They also bought the naming rights to Seattle's primary indoor sports facility, thereby naming it as Climate Pledge Arena.
2019 also witnessed the company pledging to buy 100,000 electric-powered delivery vehicles to reduce its carbon footprint.
In February 2020, the Jeff Bezos became the world's single biggest climate activist when he founded the $10 billion Bezos Earth Fund to spearhead environmental initiatives.
No Stranger to Sustainability
In 2014, Amazon hired its first sustainability head, Kara Hurst, and it's fair to say she has a full workload. The annual Amazon sustainability report is much anticipated by activists and investors alike.
It's not only environmental activists that are pressuring big business. BlackRock's CEO Lawrence Fink issued a letter in January 2020 to corporate CEOs demanding that they address ESG issues or risk disinvestment from the world largest investment management company.
The company's public statements are consistently trying to prove its commitment to sustainability. It boasts of thousands of employees behind sustainability initiatives across its operations. In a bid to placate detractors of its ESG initiatives, Amazon now monitors its carbon emissions and reports it publicly. The hope is this will pressure other companies to do the same and incorporate ESG information into the decision-making processes.
In many ways, Amazon is leading the pack when it comes to placing ESG business as the center policy.
Mixed Reviews
However, there has been a mixture of perceptions towards the way Amazon handles ESG issues, despite its prolonged climate push.
According to Just Capital, a non-profit organization whose goal is to help businesses better serve the environment and stakeholders, Amazon comes 75th out of 830 companies regarding environmental protection. The organization ranks Amazon 2nd out of 50 retailers.
But Morningstar's Sustainalytics, a unit that researches organizations on sustainability risk factors, places Amazon dead last among 441 retailers.
Going by these inconsistent rankings, ESG doesn't have standardized measurements.
Junta Nakai of Databricks, an AI and data analytics company, says," there is a big disconnect. Most companies are investing in significant initiatives, but there's a lack of an ecosystem to analyze, verify, and ensure there's no disconnection between reality and stated goals."
The tension between Companies and Activists
According to Klaas Baks, the co-founder of Emory Center for Alternative Investments, companies will continue facing criticism from activists despite embracing ESG.
"Activists come in small but vocal groups that drive ESG. While you can easily be in favor of green, what are you willing to surrender for that?" Baks said.
However, Morningstar argues that sacrifice is not a must. In 2019, this financial analysis firm stated that conventional funds' returns were lower than ESG funds.
What about Others Selling on Amazon?
The main area Amazon faces consistent criticism is in the companies lack of initiative through the supply chain and with pressuring third party sellers to be more green. Sellers on the Amazon platform greatly influence Amazon sustainability. As we know, the platform is an intermediary between buyers and sellers. So it's necessary to consider carbon emission related to these sellers' products.
But Amazon's current carbon emission tallying includes Amazon-branded item manufacturing only. It is not clear whether the company is rolling out a plan to control these third-party sellers' emissions.
And, in what could be a whole series of articles, Amazon is constantly being pressured for the workplace standards and OH&S issues. Amazon has reacted by raising the minimum wage and benefits before throwing out the challenge to Walmart and Target to follow. Amazon is also spending millions on free upskilling and certification and university degrees for its employees*
*My personal favourite is the one that is teaching a whole swath of employees to become licensed Solar Panel installers. Thus, upskilling employees as well as getting access to the labour Amazon needs to reach it's ambitious solar targets by 2025. Genius.
Time will tell.
It will be interesting to see how Amazon's massive purchasing power and influence plays out in pressuring its competitors and partners to join its broad-brush initiatives for the triple bottom line.
With inconsistent standards and little to no agreement from industry experts as to what constitutes a good ESG score, it is hard to tell which companies are really trying and which are just paying lip-service. The company claims it is trying hard across multiple fronts, but will it be enough to win over public opinion?