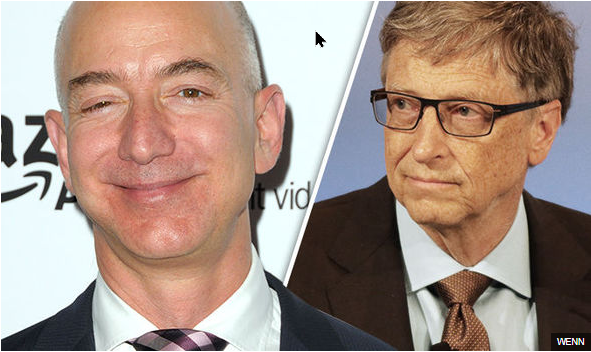 While the epidemic continued to make 2020 a stormy sea of global recession, individuals such as Jeff Bezos and Elon Musk saw their wealth soaring higher. And until January this year, Bezos had occupied the number one position for more than three years.
According to Forbes, Jeff Bezos is still the world's richest person, with a net worth of more than USD 177 billion. Elon Musk comes in second at USD 151 billion.
Richer than Some Countries' GDPs
Forbes magazine believes he's among a few wealthiest people that have ever walked this planet. Devon Pendleton, Bloomberg's wealth reporter, asserts that Jeff's wealth is simply staggering. Most countries' GDPs are far behind Bezos' fortunes. Data from IMF shows that his wealth is larger than the GDP of Hungary or Ukraine.
He is also richer than a combination of the GDPs of Luxembourg, Iceland, and Zimbabwe. His net worth also topples the market cap of most businesses on the S&P 500.
Richer than the Queen

Jeff Bezos net worth is higher than that of the British monarchy.  He was 48 percent wealthier than the monarchy in 2017.
And although the 2019 divorce from his then-wife Mackenzie Bezos made a dent to his wealth, it didn't shake him from the top position.  The 25% stake she retained in Amazon (around USD 35.7 billion) propelled her to be the fifth-richest woman.
The Power is in His Shares
Bezos earns only USD 81,840 per year. But it's the Amazon shares that have continued to put him on top. Every second sees him pocketing around USD $2,489.
Business Insider calculated this amount to be twice the median earnings of US workers per week.
USA's Social Security Administration found out that the average Bachelor's degree holder in the USA earns around USD 2.2 million throughout their life.
That amount is Bezos' income in just 15 minutes.
Jeff Reclaims the Top Position
Earlier this year, Elon Musk took the number one position from Bezos. A six-week stint as the richest man in the world saw Musk fanning the flames of his brand Tesla around the world. But his reign was short-lived, as February witnessed Tesla Inc. shares going down 2.4%. This wiped USD 4.6 billion from the CEO's net worth, pushing him down to the second position on the Bloomberg Billionaires Index ranking.
The crown went back to Jeff Bezos at a net worth of  USD 191.2 billion (USD 955 million richer than Musk). The eventful stretch that began in January had seen him resume his kingship at the time when he was planning to step down from being Amazon's CEO. He plans to do this in the third quarter to concentrate on other essential things. He is leaving the executive position a happy man, having piloted the Amazon Company to be the world's greatest e-commerce giant.
Other Treasures
Apart from Amazon, Bezos owns Blue Origin Company, his space exploration brain-child.
He also owns Washington Post, a media platform of world news, global opinions, and other media. He is also performing well in his philanthropic giving of late, giving $10B of his personal fortunes to environmental causes and research.
Tim Shelton (Senior Partner) with E. Juma (Staff Researcher)