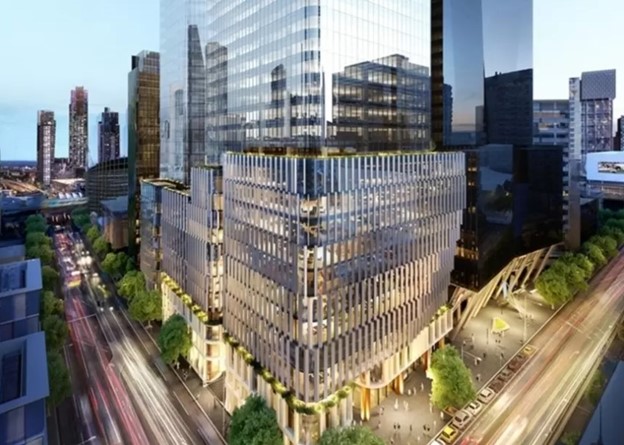 In April, Amazon held a ceremony attended by Victoria's leaders to mark the beginning of putting up a new $ 1.5 billion office in Melbourne.
Melbourne's Lord Mayor Sally Capp and Victorian Treasurer Tim Pallas were present for the ceremony that marked the precinct's first stage foundations.
December 2020 saw Amazon being named as the office precinct's anchor tenant. The office is continuing to take shape under the development of Charter Hall- a Property and Funds Management Company.
The offices, which are in the heart of Melbourne's CBD at 555 Collins Street, will house both the eCommerce behemoth's online business, Amazon.com.au, and Amazon Web Services (AWS). The constructors expect to complete Stage 1 Tower by early 2023, and it will comprise a space of 48,000 square meters. Its budget stands at $750 million.
Construction of Stage 2 Tower will then begin. Connecting to the city's midtown, the tower will consist of offices occupying 32,000 square meters and retail spaces covering up to 2300 square meters.
According to Adam Beavis, AWS managing director for Australia, Melbourne is home to great innovators. The carbon-neutral framework that guides the construction of 555 Collins has led to this street boasting a 6 Star Green rating.
"We are looking forward to bringing Amazon's growing local workforce to 555 Collins Street so we can continue to invent and innovate on behalf of customers across our Amazon and AWS businesses in Australia," said Adam.
Charter Hall said, "smart-building technology" is at the centre stage in constructing these towers, thereby embracing the post-COVID mindset. Apart from monitoring the air quality, the innovative technology will be providing contactless amenities to support enhanced wellness, hygiene, and health.
The management company says that it has focused on creating a future-proofed workplace, paying particular attention to team experiences and collaborative spaces to enhance engagement.
In collaboration with Gensler, a global architecture company, and COX, a contemporary architectural practice, Charter Hall is infusing workplace technologies into the building.
Gensler is behind the design of Facebook's US headquarters and Dropbox's Sydney offices.
Pallas said that 555 Collins Street and other innovative projects mean a lot to the city's skilled workforce.  He said that in the next decade, the investment "will contribute billions of dollars to the Victorian tech economy." It will also cement Melbourne's position as the nation's leader in innovation.
The building is expected to accommodate up to 7500 employees once it comes to completion.
Tim Shelton (Senior Partner) with E. Juma (Staff Researcher)
---