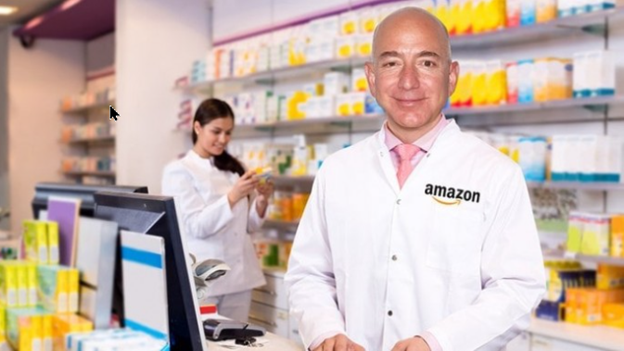 In June 2021, Amazon.com Inc announced that its "pharmacy" was now providing six-month prescriptions from $6 for common health problems. According to the eCommerce giant, prime members paying without insurance would enjoy extra savings.
The charges start from $1 per month for select ailments like blood pressure and diabetes. Additionally, the customers can enjoy two-day delivery free of charge.
How Does Amazon Pharmacy Work?
First, the customer signs up for the service and creates a profile. As expected, they need to fill in personal details (like name and date of birth), regularly used medications, and pre-existing conditions or allergies.
After creating a personal account, users have a few choices about how to get a prescription for the medication that they need. Here's how they can obtain the prescription:
Contacting their healthcare provider: customers can directly request their prescribers or doctors for the prescription to be sent to Amazon Pharmacy.
In what will be quite a hard concept for Australian pharmacies to understand American patients can ask Amazon Pharmacy: users opting for this choice may have to wait for 2-4 days to obtain the prescription.
The Amazon Pharmacy will then notify users that it has received the prescription. The customers can then place their order, pay through their preferred option, and wait for delivery.
Amazon Prime members can search their medication's name, check its price and see if it qualifies for a 6-month supply, Amazon said. These users can benefit from significant discounts on drugs (even if they don't hold private insurance) and free two-day delivery.
Amazon Pharmacy accepts almost every private insurance cover, providing a guarantee for pocket-friendly medications.
Sparking Competition
The company launched its eCommerce pharmacy in November 2020 for prescription medications in the US, sparking competition with Walmart, Walgreens Boots Alliance, CVS Health, and other major drug retailers.
The epidemic-induced upsurge in e-commerce encouraged Amazon to venture into the medication drug industry, threatening physical pharmacies. In fact, drug chains and wholesalers witnessed their shares plummeting in morning trading soon after the e-commerce giant made the announcement.
CVS and Walgreens watched as their shares fell 1.2% each. Popular drug distributors McKesson Corp and AmerisourceBergen Corp also went down 1.7% and 1%, respectively.
The Insider revealed in May that the company is also planning to launch brick-and-mortar pharmacies in the US.
​
The Future is Bright, just not Down Under
The eCommerce behemoth has been attempting to enter the pharmacy arena for the last few years. In 2018, it acquired PillPack (at $753 million), a platform that helps customers get pre-sorted doses of multiple medications. The company later launched its own line of OTC drugs in 2019.
But it's this latest push into the pharma industry that promises to open massive revenue opportunities for this company, especially as the demand for more remote care continues to boost online shopping. Consumers will also view Amazon as a one-stop shopping platform for pharmacies, groceries, electronics, clothing, and other household items.
In a shock move however, Amazon has withdrawn its trademark application for "Amazon Pharmacy" in Australia after it faced concerted resistance from the Pharmacy Guild of Australia. The company's plans for pharmacy in Australia remain unclear.
Tim Shelton (Senior Partner) with E. Juma (Staff Researcher)