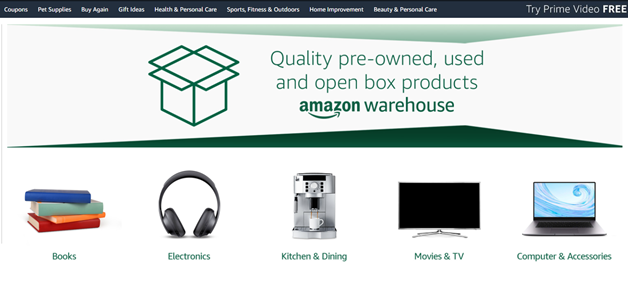 Amazon has introduced a separate section on its Australian eCommerce platform for pre-owned, used, and 'open box' items. Called Amazon Warehouse, the eCommerce behemoth looks to use this section to directly challenge existing used goods retailers like e-Bay, Gumtree and Facebook who are currently kings the promising pre-owned space.
The section's primary focus will be to provide discounts on high-value products that are usually in high demand- think laptops, smartphones, home appliances, and tablets. Other items include toys, home improvement products, music, books, and kitchen items.
The team at Amazon will be testing each item thoroughly to ensure they're okay and rate them according to their working conditions.
A good item with only damaged packaging will be rated "Used-Like New." That with minor cosmetic defects will be "Used-Very Good." A product with a missing accessory or small scratch will bear the tag "Used-Good." Lastly, a good working item showing signs of use will be indicated as "Used- Acceptable."
According to Amazon Australia Country manager Matt Furlong, some items will attract deep discounts depending on their conditions.
"Customers sometimes return products to our stores due one or several reasons- cosmetic defects, damaged packages, or just not what they're looking for," said Mr. Furlong.
Although the returned items are usually in excellent working conditions and quality, they cannot sell them as new.
Mr. Furlong said that "Through Amazon Warehouse, these items can get a new lease of life and provide buyers an even extended selection to pick from."
The company offers a wide range of discounts on these items, from small drops in RRP (recommended retail price) to attractive decreases in prices.
In June 2021, a Samsung Galaxy 5G phone indicated "Used-Very Good" was going at $687.52, discounted from $795.99. Likewise, you could get a Garmin outdoor watch displayed as "Used-Like New" for $452.58, while the new one stood at $476.95.
You could also grab a "Used-Very Good" Seiko Men's Watch, which had dropped all the way from $722.61 down to $445.39. So Amazon is offering customers a great chance to save substantial amounts of dollars.
The entry into the second-hand items' Australian space is expected to bring in substantial revenue to the company. In fact, the net worth of this market is estimated to be about $46 million.
The Amazon Warehouse section added thousands of discounted products to the more than 125 million items already on their platform.
Tim Shelton (Senior Partner) with E. Juma (Staff Researcher)​​