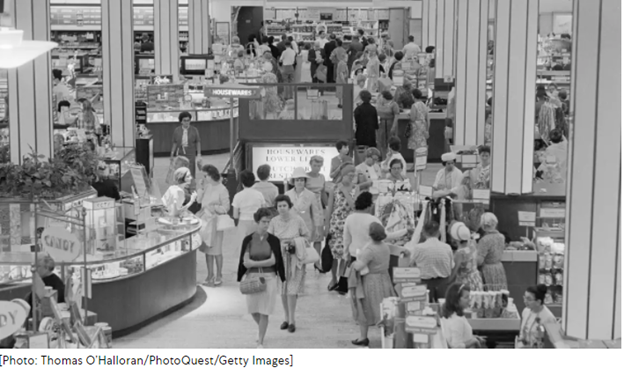 After systematically dominating the world of online shopping, grocery stores, convenience stores, bookstores, and other sectors, Amazon is planning to establish department stores.
​
The e-commerce giant is confident that this move will help it sell physical items to in-person consumers directly. While this will cause disruption in the whole retail market and cement the company's dominance, it could be good news for shoppers.
Amazon already has AmazonGo stores and smaller 4-star stores that stock only high-performing items. It's expected that the department stores will also feature top-rated and private-label items. Also, customers can expect the payment technology that AmazonGo uses (where there are no actual cash registers) to be used.
The stores will be smaller than most department stores (around 30,000 square feet) but larger than the company's other physical stores.
Amazon hopes to use these physical spaces to reach more shoppers looking for electronics, household products, and clothing. In fact, the company has been pushing into the clothing industry to rival its age-old competitor, Walmart.
California and Ohio will be among the first places to welcome Amazon department stores.
The company's move is an evolution in its efforts to occupy bricks-and-mortar retail after decades of continuously outcompeting big-box operators.
Amazon's skyrocketing growth in online shopping and FBA service contributed to the downfall of once-potent mall operators and physical-store empires. It now leads in the US clothing market. According to Wells Fargo, sales of shoes and clothes on Amazon are expected to reach $45 billion in 2021, surpassing Walmart's revenue.
The e-commerce giant is venturing into an area that has struggled for years. Department stores used to be a one-stop destination for shoppers looking to shop everything from fruits to summer wear. But online players, discounters, and fast-fashion retailers have overtaken them.
Customer Growth Partners reveals that department stores scooped 10% of retail revenue a generation ago (excluding restaurants, automobiles, and gas). But the figure has gone down to 1% this year 2021.
The onset of the COVID-19 pandemic in 2020 accelerated the drop in physical shopping. The situation was so severe that stores like J.C. Penny, Lord & Taylor, and Neiman Marcus Group Inc. filed for bankruptcy.
But experts still believe that department stores will still be around, as indicated by Amazon's move.
"People are returning and shopping in department stores," John Idol, the CEO of Capri Holdings, said.
About two years ago, Amazon and some US clothing brands met and discussed plans to open large-scale stores to display their products.
Expanding into brick-and-mortar stores would allow the company's buyers to try out a bevy of items in person before purchasing. For apparel customers, this is good news since online shopping comes with fit and size concerns.  Customers will also get instant gratification. Unlike online shopping, they will not have to wait for several days to have their products.
According to Amazon, physical spaces would boost customer engagement and display more fantastic products to customers. The company plans to glean insightful shoppers' data across its stores to offer a robust shopping experience.
Machete Systems Pty Ltd December 2021
Looking for a seasoned Amazon FBA expert that will propel your store on the platform? You can rest assured that our Amazon account management services will help you achieve your rightful place on Amazon.